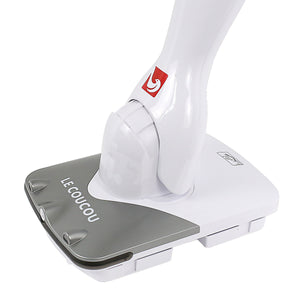 Le Coucou SC-168 Sonic Multi Clean Cordless Electric Floor and Carpet Vibration Power Spray Mop, Hardfloor Cleaner Automatic Sweeper
Sale price Price $159.99 Regular price
Experience the power of high powered Sonic Action Scrubbing with the Cordless Le Coucou Sonic Multi Clean Mop!
With a wide range of motion and deep action scrubbing, cleaning your hard floors will be efficient and smooth. This mop also will work on your carpet as the scrubbing pads are designed for both hard floors and carpet use. The Le Coucou Sonic mop has a powerful detergent spray allowing you to avoid the need for over saturating or coating the floor with excessive detergents to achieve a deep cleaning in your home. Spray as you go and simply scrub with less strain and effort to achieve your desired effect!     
Features:
1) Robust sonic action scrubber
2) Powerful detergent jet spray
3) 2.5US pt lqd (1.2 liters), easy-fill water tank
4) Maximum 100 minutes of cordless operation*(fully charged) 
5) 900 oscillations per minute
[Easy Use]: Wide Cleaning range and motion. Maneuver with ease! Head Lights for better visibility in covered or dark spaces.

[Labor Saving]: Automatic Sweeper and Scrubber. Just power on and go! Multi Cleaner Mop which cleans wood and hard floors with a robust Sonic Action Scrubber, no force needed. Can also be used for carpet cleaning/ scrubbing (not vacuuming)!

[Jet Spray]: Powerful Detergent Jet spray, designed to clean stubborn stains. No water stains are left on the floor. Only little water is needed for cleaning, protect your wood floor and carpet. Easy Fill Water Tank. Tank capacity is 2.5 US pt lqd (1.2 litres).

[Cordless]: Cordless Cleaning with a maximum of 100 minutes of cordless operation (when fully charged). Efficient Cleaning with 900 oscillations per minute.

[Guarantee]: Buy with confidence as we offer 30 days trial period if you are not satisfied.