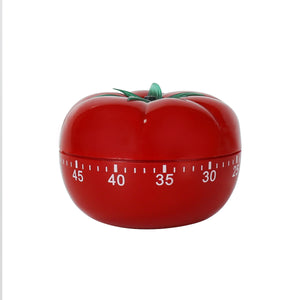 Classic Tomato Cooking Timer Kitchen 60 Minute Mechanical Cute Home Decoration
Sale price Price $5.99 Regular price
Classical style Tomato kitchen timer. Decorate your kitchen counter and keep track of cook time with this perfect cooking timer! 

Timer goes up to 60 minutes. Turn clockwise to 60 minutes, then counter clockwise to set the desired time.
Mechanical non-battery operated. Never have to worry about replacing a battery to make your kitchen timer last. This timer is mechanically operated and will not require any batteries to make it work.
Add a Splash of Color to your Kitchen with this vintage inspired tomato timer.
Enjoy the functionality of having this decoration help you perfect your cooking experience by allowing you to not have to worry about how long your meal has been cooking for.
How to use Turn clockwise to 60, Turn counter-clockwise to the number of minutes required. A bell will ring when all the minutes have elapsed.
Dimensions:  Approx. 2" W x 1.5" H x 2" D.     

Material: Plastic.