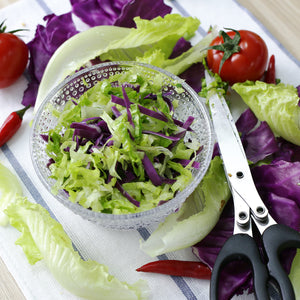 Herb Scissors Stainless Steel, 5 Multi Blades Kitchen Shear, Finely Cuts Herbs
Sale price Price $7.99 Regular price
100% Stainless Steel multi-purpose herb scissors for cooking preparation and aromatic infusion.   
Hassle Free cooking preparation tool. Instead of chopping fine herbs with a knife leaving a mess and  having fine slivers of herbs stick to the blade, these herb scissors will cleanly and efficiently complete the job instead. 

Snip herbs finely and with uniform size. Two snips with the sharp, finely balanced 5 blades equals 10 knife chops.  

Garnish Culinary Dishes with Herbs. Enhance your next dish with aromatic, attractively cut herbs using these shears. Add some zest, color and flavor with a dash of flavorful herbs cut with these sharp herb scissors.

Easy to Clean. One quick swipe with the cleaning comb end of the blade cover pushes stubborn clinging herbs right off the blades. Rinse the blades and wash the herb scissors in your dishwasher.

Comfortable Handles. Better than silicone, the interior handle provides a comfortable, soft grip. The handles are made of TPR which is light weight, anti-abrasive, soft and recyclable.

Dimensions: Approx. 3.6"W x 8"H x 0.5"D. 

Material: Stainless Steel
Buy with confidence as we offer a 14-day return if you are not satisfied.