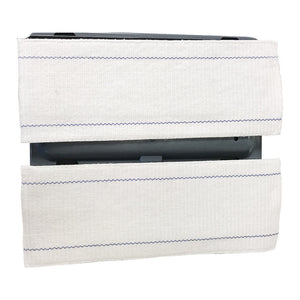 Le Coucou SCD1-DMP Disposable Refill Replacements for SC-D1 Vibration Mop Wet, Dry Utility Cloth Mop Pads (10 pack)
Sale price Price $9.99 Regular price
LECOUCOU DESIGNED specifically for D1 cordless vibration mop (will not fit on other brands/models).

PACKAGE INCLUDES ten total mop pads for Le Coucou D1 mop for use with wet and dry hard floor cleaning.

HARD FLOOR CLEANING wet and dry use capable, these mop pads can be used for drying and cleaning your hard floor.

VARIETY HARD FLOOR cleaning compatibility with hard/wood, tile, marble and engineered floors.
Le Coucou D1 mop disposable wet & dry cleaning cloth replacements are designed to help you wet mop, dry and spot clean your hard floors more efficiently, allowing you to simplify your cleaning experience. These mop cleaning cloth refills are easy to install to the mop pad and are light weight, perfect for cleaning when needed and easy to dispose. This pack of 10 mop pads will refresh your home for a fresh new floor every time with the power of the cordless D1 vibration mop! Enjoy an efficient cleaning experience with these easy to use mop cleaning pads.