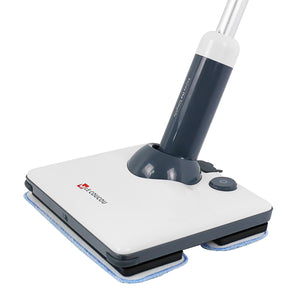 Le Coucou SC-D1 Vibration Action Scrubber Floor/Carpet Wet Dry Multi Cleaner Jet Spray Auto Sweeper Cordless Power Mop
Sale price Price $109.99 Regular price
Experience the Ease and Efficiency of Vibration Action Scrubbing with the Cordless Le Coucou D1 Multi Cleaner Mop!
The Le Coucou SC-D1 is a cordless vibration mop which has transformed traditional troublesome and toilsome mopping and floor cleaning. With Le Coucou's SC-D1 simply turn on the power and the bottom vibrating plate will mop the floor back and forth with a frequency reaching up to 1,000 times per minute making cleaning less of a hassle and more efficient. The SC-D1 can be equipped with different functions of cleaning cloths to achieve different household floor cleaning purposes. The ergonomic design is simplified to make your house cleaning experience easier and more convenient. Reduce unnecessary strain and effort by allowing the mop to do the extra scrubbing for you, simply push the handle and go for a beautiful household clean! 
Features:
1) Powerful vibration action scrubber
2) Powerful detergent jet spray
3) 150ml water tank capacity
4) Maximum 50 minutes of cordless operation*(fully charged)
5) 1,000 oscillations per minute
[Simplified Home Cleaning] when using the SC-D1 mop which requires less movements than ordinary mops. Requiring little to no effort or strain needed to achieve a deeper clean in your home.

[Powerful Oscillating Cleaning Technology] Mopping Frequency Reaches up to 1,000 times per minute making your cleaning work more efficient. Bottom Vibrating Plate which mops the floor back and forth allowing you to clean more with simple cleaning motion.

[Ergonomic Design] helps to reduce your labor and strain. No More Laborious Maneuvering needed to clean your floor consistently.

[Jet Spray] Powerful Detergent Jet spray, designed to clean stubborn stains. No water stains are left on the floor. Only little water is needed for cleaning, protect your wood floor and carpet. Tank capacity is 150ml.

[Package Includes] Charger, Measuring cup for water dispensing, Wood/hard floor Wet and Dry cleaning pads, Carpet cleaning pad and Product manual.