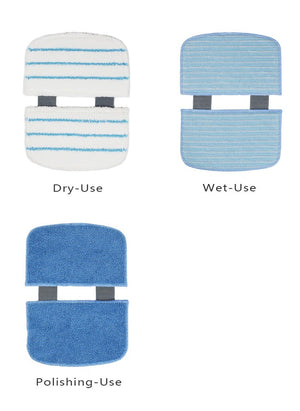 Le Coucou Sonic SC168-MP Refill Replacement for SC-168 Sonic Vibration Mop Complete Wet, Dry, Polish Mop Head Variety Pads (3 Pack)
Sale price Price $30.09 Regular price
LECOUCOU DESIGNED specifically for Sonic cordless vibration mop (will not fit on other brands/models).

PACKAGE INCLUDES four total mop pads for Le Coucou Sonic mop: one Wet cleaning mop refill; one Dry mop refill; and one Polish mop refill mop heads.

REUSABLE & WASHABLE cleaning, drying and polish mop pads. Machine washable at 104F or below.

HOUSEHOLD CLEANING with wet mopping, drying and polishing. Make your floor more comfortable and attractive with Sonic's re-usable mop pads.

CLEAN FLOORS/CARPET to perfection with the advanced technology of cordless vibration scrubbing using your Sonic mop!
Le Coucou Sonic cleaning cloth replacements are designed to help you wet mop, dry and polish your hard/wood floors more efficiently allowing you to simplify your cleaning experience. These mop cleaning cloth refills are all machine washable at 104F or below allowing you to have more continued use of your mop heads. No need to toss or throw away, simply clean and renew your existing mop head after use for a fresh new floor every time! Avoid creating household waste with re-usable Le Coucou wet, dry, polish head replacement pads, simply clean and use again!