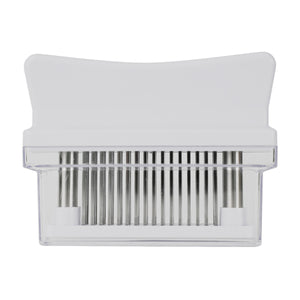 Meat Tenderizer 48 Blades Stainless Steel Hand Press for Steak, Chicken, Pork
Sale price Price $9.99 Regular price
Transform all meat cuts into top grade, juicy and flavorful masterpieces. No need to buy expensive meats in order to enjoy flavorful meals. Allows the marinate sauce to penetrate quickly & deeply. Cuts the required marinade time down to 5 minutes. Reduces cooking time by 40%. Reduces shrinkage of meat with no loss of natural juices.
This tenderizer is the high-end restaurant's best kept secret for achieving their zestful and savory results. Safe & Easy to use. Dishwasher safe and easy to clean. Includes a protective plastic cover for safe storage.
Dimensions: Approx. 6"W x 4.8"H x 1.5"D.
Material: Made of ABS plastic and Stainless Steel blades.
Buy with confidence as we offer a 14-day return if you are not satisfied.