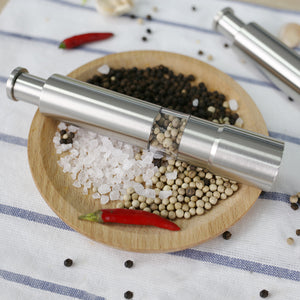 Pepper Grinder, Salt Mill, Stainless Steel Manual Press Sleek Pepper Grinder
Sale price Price $6.59 Regular price
Easy to fill and functional simple hand press pepper & salt grinder mill
Clear panel allows you to see when you need to refill. Made of ABS plastic, this pepper grinder is easy to fill and is also clear giving you the ability to see when you need to refill.

Good Capacity Volume. 2 ounces of pepper corns or 5 ounces of salt crystals fit in these pepper grinders.


No clunky metal rod mechanism in the interior chamber. Simple snap lock system ensures that the grinder is safely and securely closed.


Light weight and effortless to hold. These pepper grinders are 8 ounces in weight allowing for easy carry and use by hand.


Easy to use reliable pepper mill features variable settings, fine to coarse grind, maximum approximately 1/16th of an inch. The grind is easily changed by a simple twist of the base.


No spillage of extra peppers/ salt crystals during operation. Securely sealed and effortless locking mechanism ensures that extra pepper corns or salt crystals will not pour out when you do not want them to.

Wide opening for easy fill. Easily fill the pepper grinder by pouring into the wide opening.

Multi Functional grinder. Use as either a salt/ pepper/ spice mill or dried herb grinder to garnish and zest your favorite culinary masterpieces. 

Won't neutralize flavors. Non-corrosive grinder will not absorb flavors or odors.
Save on costs without having to buy batteries. This grinder is operated by manual use meaning that you will not need to buy batteries to use this grinder.
Dimensions: Approx. 1"W x 6"H x 1"D.
Material: Stainless Steel and clear ABS plastic.
Package Includes: 1 Pepper Mill Grinder
Buy with confidence as we offer a 14-day return if you are not satisfied.