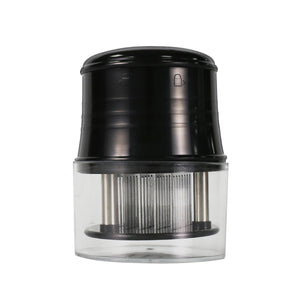 Professional Meat Tenderizer Stainless Steel 56 Blades for Steak, Chicken, Pork
Sale price Price $10.99 Regular price
Top Quality Professional meat tenderizer.
Save time & hassle by using this extremely sharp and durable meat tenderizer to reduce shrinkage and cut meat fiber through connective tissues.
Tenderize meat to create irresistible juicy and flavorful masterpieces by using this tenderizer to create pockets for marinate and to reduce cook time.

Easy to Clean. Wash with soap and warm water with the help of the brush attached with the tenderizer in the box.

Lock Mechanism designed to ensure safety even when left unattended in the kitchen.
Receive Compliments on your cooking when someone tastes your flavorful, tender grills and dishes made with this tenderizer.

Dimensions: Approx. 3.3"W x 4.5"H x 3.5"D.

Material: Made with FBA approved ABS plastic with 24 Stainless Steel blades.

      Buy with confidence as we offer a 14-day return if you are not satisfied.