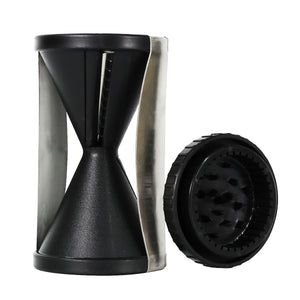 Spiral Slicer Kitchen Vegetable Zucchini Carrot Pasta Spiralizer Compact Cutter
Sale price Price $8.99 Regular price
Vegetable Spiral slicer molded with lightweight ABS BPA free plastic fitted with Stainless Steel Japanese blades. 
Very sharp blades can cut vegetables, pasta or other kinds of food with a clean unique cut.
Easy to store and easy to use. Fits comfortably in your hand and takes up minimal space.
Dishwasher safe and easy to clean.
Minimize waste with this revolutionary spiral-slicing which slices vegetables and food thinly so that you keep the maximum amount of ingredients. Create veggie noodles or long strands of vegetable garnish with this spiral cutter.
Complimentary small cleaning brush comes with your spiral veggie cutter. Use this cleaning brush to clean hard to reach blades with minimal effort.
2-in-1 Cutting Function Can't decide what size you should cut veggies? Now you can choose from two Julienne sizes of 2x3mm and 3.5x5mm.
Dimensions:  Approx. 2.7" W x 5" H x 2.7" D.

Material: Stainless Steel & Clear ABS Plastic.
Buy with confidence as we offer a 14-day return if you are not satisfied.